Helium 10 vs Jungle Scout
In the time it takes for you to read this article comparing two of Amazon's top PEO software tools, the number of online sales that will be made through Amazon in the United States will hit roughly 20,000. That's 4,000 sales every minute.
E-commerce is booming, and these tools will help you make the best of it.
Let's Get Started.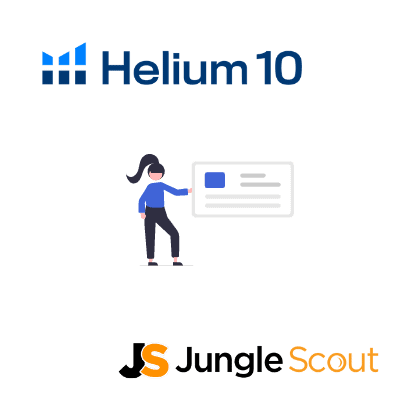 Is Selling on Amazon really a good business? 
Yup! 
In fact, online e-commerce businesses have 5 times higher success rates than traditional businesses. 
The world is shifting online, and ecommerce has become big business; driving an increasing percentage of small and medium business sales across all industries.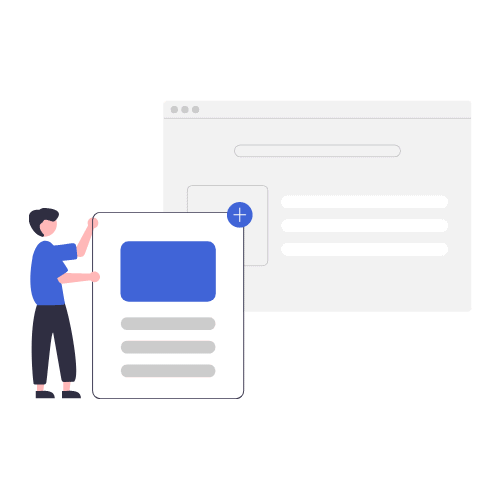 E-commerce doesn't just mean the ability to make sales online. It also means being able to reach your target audience and ensure that you are marketing to the right people. It means understanding how every aspect of your business is working on any specific platform and having the ability and the power to change the way your business and brand message is represented. It means harnessing the influence of a global platform like Amazon and using it for the benefit of your brand.
A lot of this has to do with how well you know your brand and your target audience. But it also means choosing the right PEO software which allows you the access and functionality you need to run your Amazon business successfully.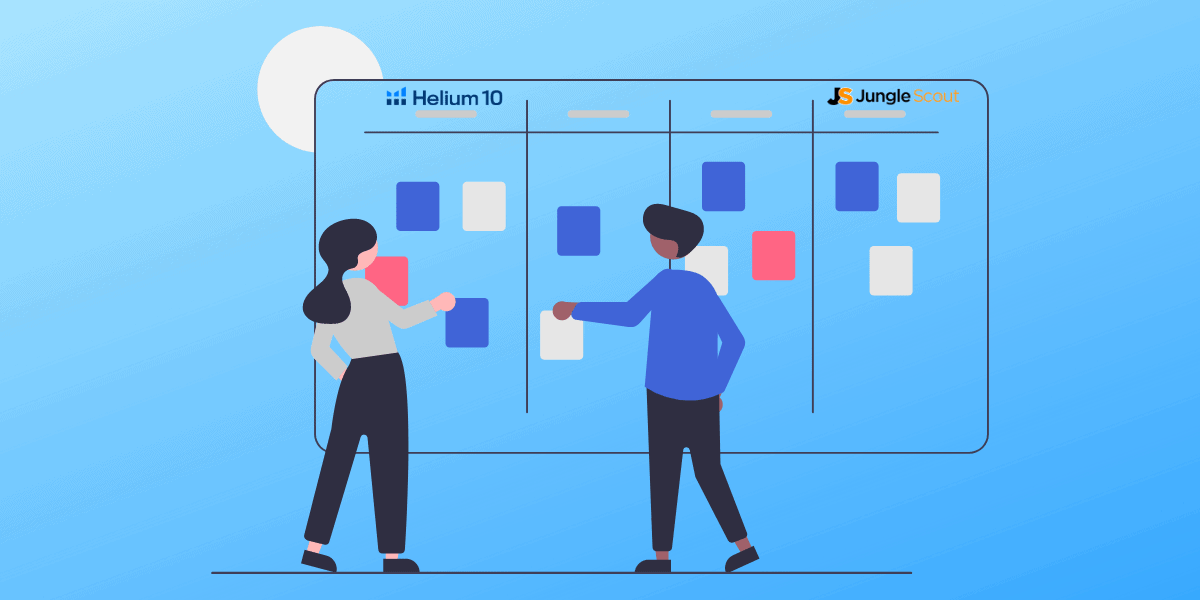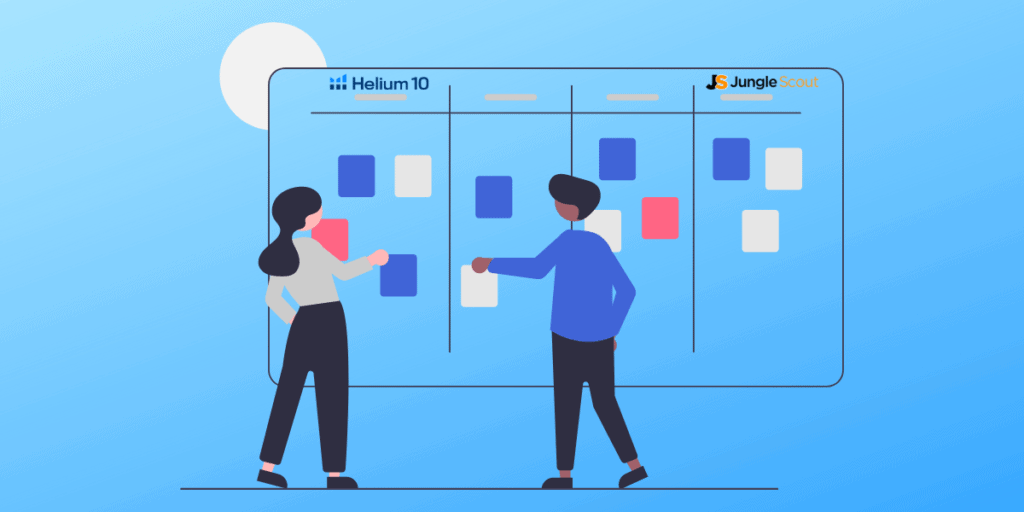 PEO stands for Professional Employer Organisation, and essentially refers to a company which provides external admin services spanning across payroll requirements, liability, health and safety, regulatory compliance support, workforce management technology, training and development, and health and employee benefits. A PEO is the answer to any small or medium businesses workforce needs, delivering a high quality of service which ticks all those different job role boxes you may be struggling to fulfil yourself. This includes but is not limited to office admin, marketing and digital marketing research and implementation, design and product presentation, and general sales management.
But how do you know which is the best software, when there are so many out there on the market to choose from?
This article looks at Helium 10 and Jungle Scout as two of the top ranked PEO platforms out there, assessing the benefits and drawbacks of both platforms as we seek to crown one of them the best Amazon platform on the market.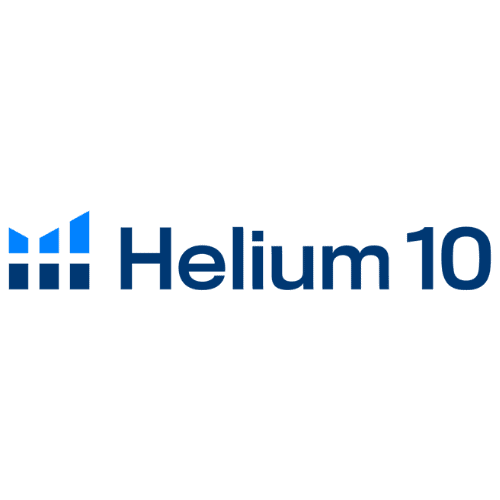 Founded in 2015, Helium 10 boasts the kind of founding story that only the very best organisations are born from.
By that we mean that it was created as a response to a problem identified by an Amazon seller.
Finding himself struggling due to a lack of software which could be used to help him enhance his own Amazon sales, Manny Coats (Founder) joined together with Guillermo Puyol (Founder) to design and launch a solution to the issue highlighted by Coats' own struggles with using the Amazon platform to his advantage.
Of course, every big business venture starts somewhere, and for Helium 10 this start came from Scribbles – the Amazon listing optimisation tool which formed the first part of a platform which now boasts more than 20 integrated Amazon tools as part of one big user package. Presented to consumers as an all-in-one Amazon software tool, Helium 10 has become a renowned industry leader which provides:
Amazon product research
Keyword research
Competitor information
Index checking
Amazon listing optimisation
Product launches
Keyword tracking
Refund management
Listing monitoring
Email follow up
Inventory Protection
Financial Analytics
& tons of other useful tools which help run a successful Amazon business
One interesting thing to note about Helium 10 is that its name was born from the concept of having 10 integrated tools as part of its package. Of course, since the founding date, Helium 10 has since added a further 10 tools to its overall offering – taking the total up to 20. And yet the name and what it stands for has stuck.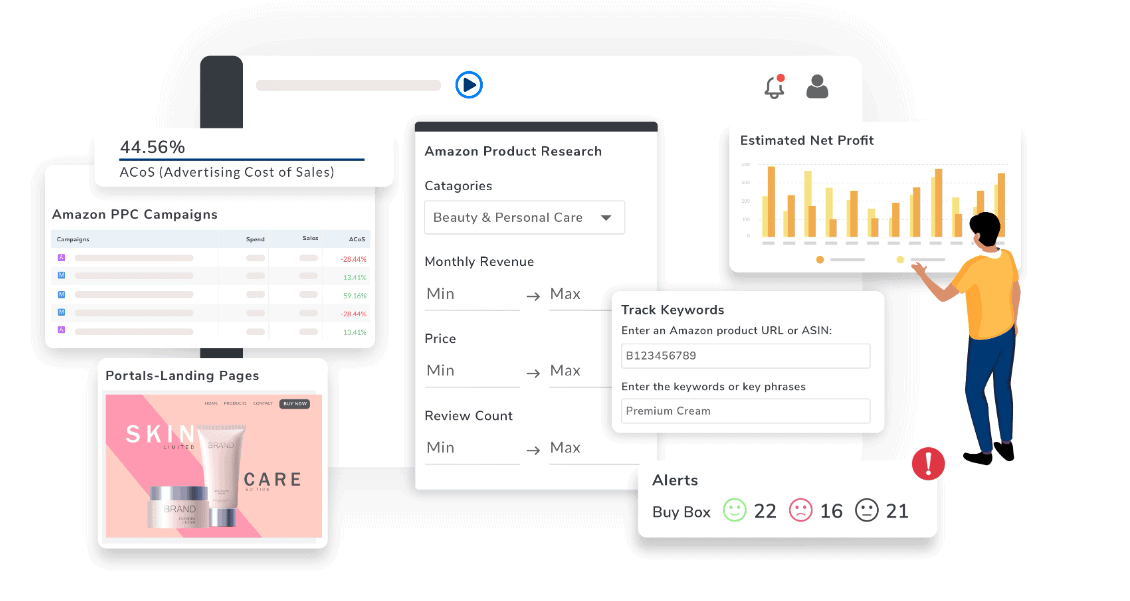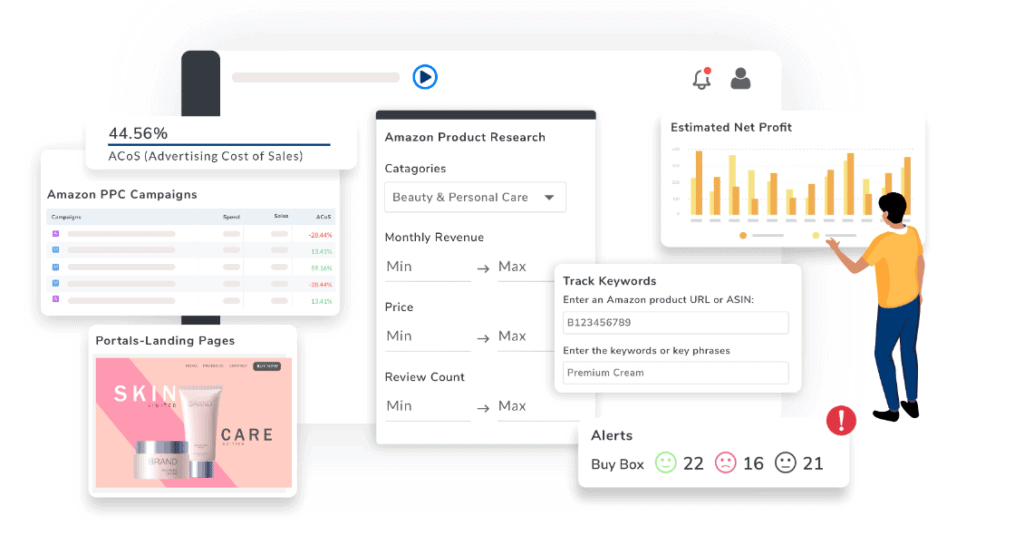 With so many different products and tools available as part of the standard offer, it can be easy to look at this list and feel your head fill with doubts. After all, if one single package is claiming to offer expertise across so many areas, can it really be doing all (or any) of them well? Well, you could look at it like that – or you could look at it as a culmination of all the information that Amazon sellers need, from the comfort of one central hub.
This is where the results of Helium 10 truly do speak for themselves, with reviews and testimonials giving potential customers and users an insight into how other businesses and individual sellers are using Helium 10 to grow their own business propositions.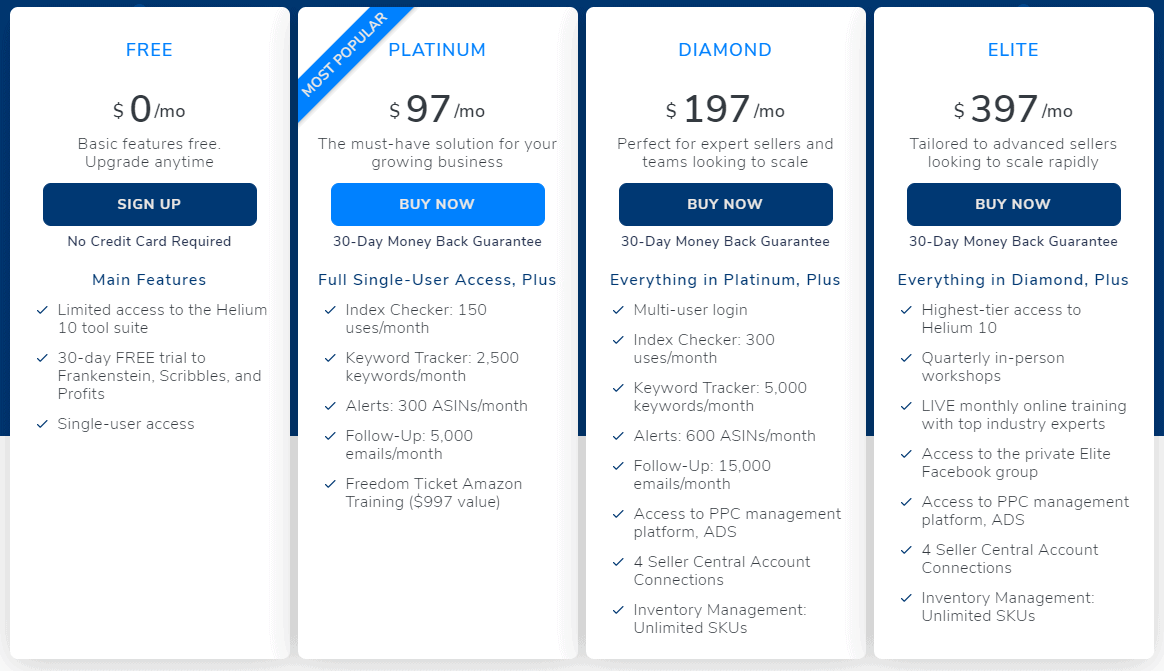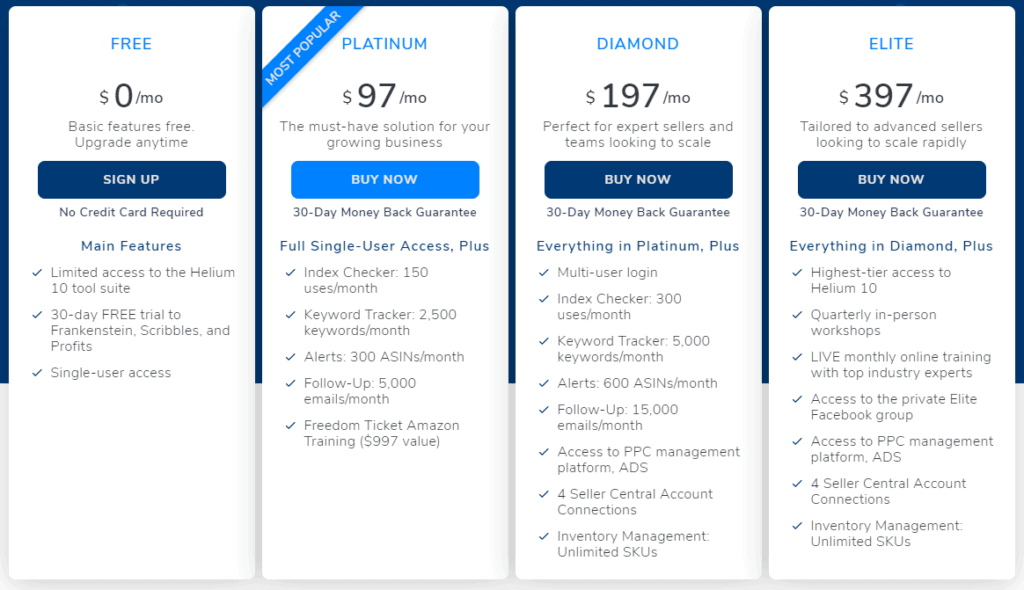 The best way to assess the benefits of Helium 10 is to look into the various features and tools offered by the software. Before then, however, lets turn our attention to pricing.
At the time of writing (November 2020), Helium 10 offered four different pricing packages for Amazon sellers to choose from; ranging from the free package with limited access, to the Elite package priced at a whopping $397 per month. Now, you may look at that figure and laugh, but for businesses that are looking to grow and scale up rapidly and who need support across their business operations in order to do so, $397 is small fry compared with the potential profit gains.
The fact that Helium 10 has a free package at all is a great thing for beginner Amazon sellers, with the basic package offering limited access to the tool suite, a free trial period to Frankenstein, Scribbles and Profits (three of Helium 10's most useful tools), and access for a single user. For the most part, the limited access included with the free package spans across usage or a set time period, for example sellers can enjoy 20 uses of the Helium 10 Black Box tool free of charge, and they can benefit from 30 days' free use of the Trendster tool.
In essence, by presenting Amazon sellers with an option to trial Helium 10 free of charge for a limited time or user period, the software immediately benefits from a level of reliability and transparency that many consumers look for and herald in today's market.
Now for the tools themselves, and for those looking for more information on what is included as part of each of the pricing package brackets, Helium 10 boast a super simple chart on their website which allows users to compare the different areas of focus and understand what each package includes.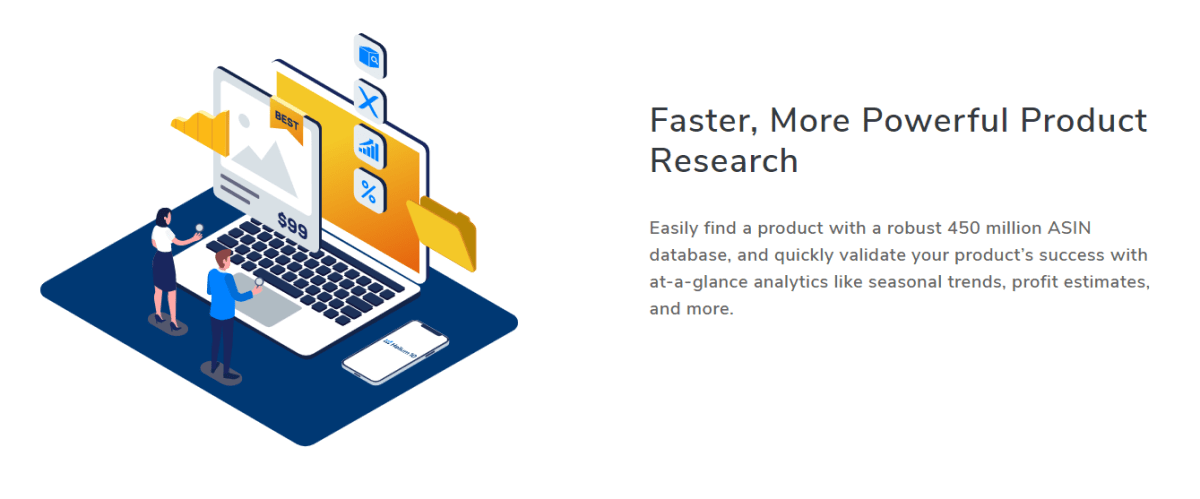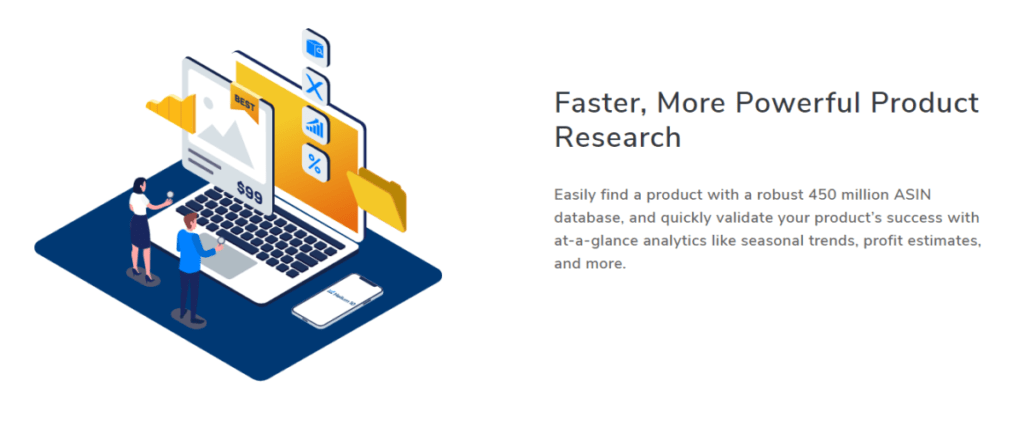 First to the product research tools, and these are what really form the starting point for any business looking to get started on Amazon. Featuring the Black Box product researcher tool, the Trendster trend finder, and the Xray product validator, Helium 10's array of product research tools give the user an opportunity to assess the current market and understand where their products will fit in, breaking down product categories by popularity and demand, price and review rating. Another way that these tools are particularly useful is in setting the price for your products, with Trendster in particular providing valuable insight into how different pricing strategies are working for other similar brands and products.


Once you've settled on your products and pricing, it's time to move onto the Keyword Research tools – the features of Helium 10 which will ensure your products get noticed by captive consumers and active buyers. The three main tools included as part of the keyword research functionality are Cerebro (an insight tool into the keywords being used to great success by your competitors), Magnet2 (providing a master sheet of recommended keywords for your products), and Misspellinator (which, quite literally, checks for spelling mistakes and corrects them). As with the product research tools, these are all functions and operations which are so simple and yet produce highly effective results in virtually no time at all.
Listing Optimisation Tools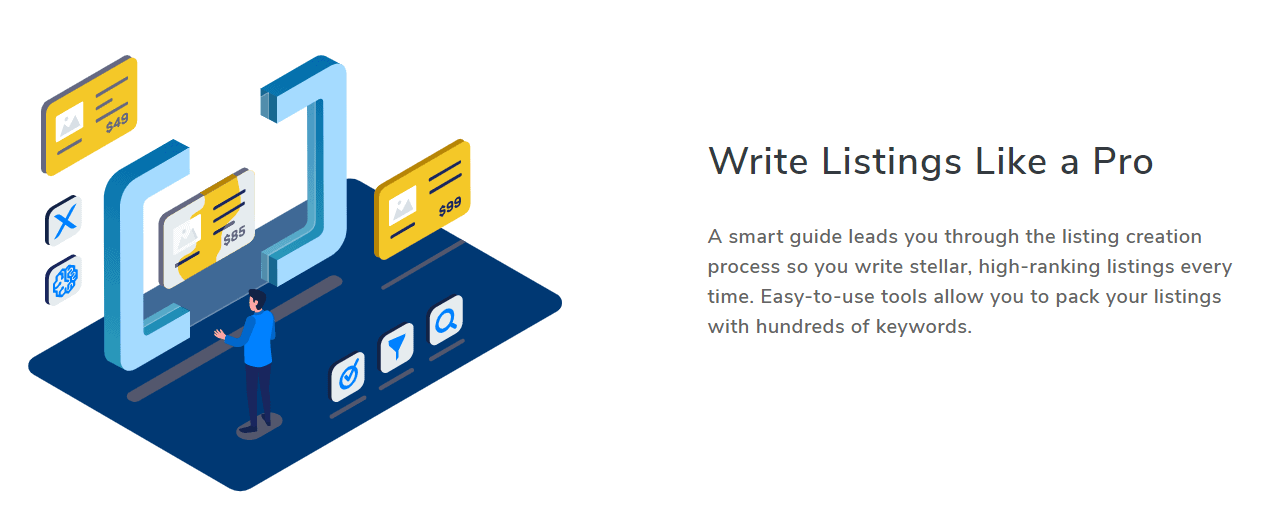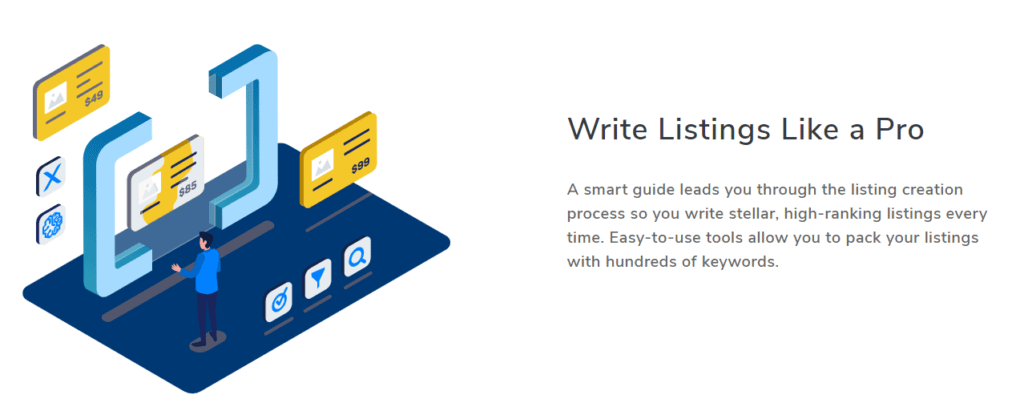 Having created the perfect content and copy to sit alongside each product, it's time to hit the big red button and get your products listed. And, as with every other stage, this is something that Helium 10 can help you to optimise thanks to its three tools: Frankenstein (a keyword processor tool which removes repeated keywords and allows you to use the limited keyword space to its full potential), Scribbles (a colour coded breakdown of your top keywords to let you know how well you are using them), and Index Checker (a tool which checks the continuity and ensures that your keywords are being used in the backend of the product page as well as in the content). What these three tools do is provide you with that crucial final stage of checking to give you the assurance that you are launching a seamless and effective product list, underpinned by a high level customer journey.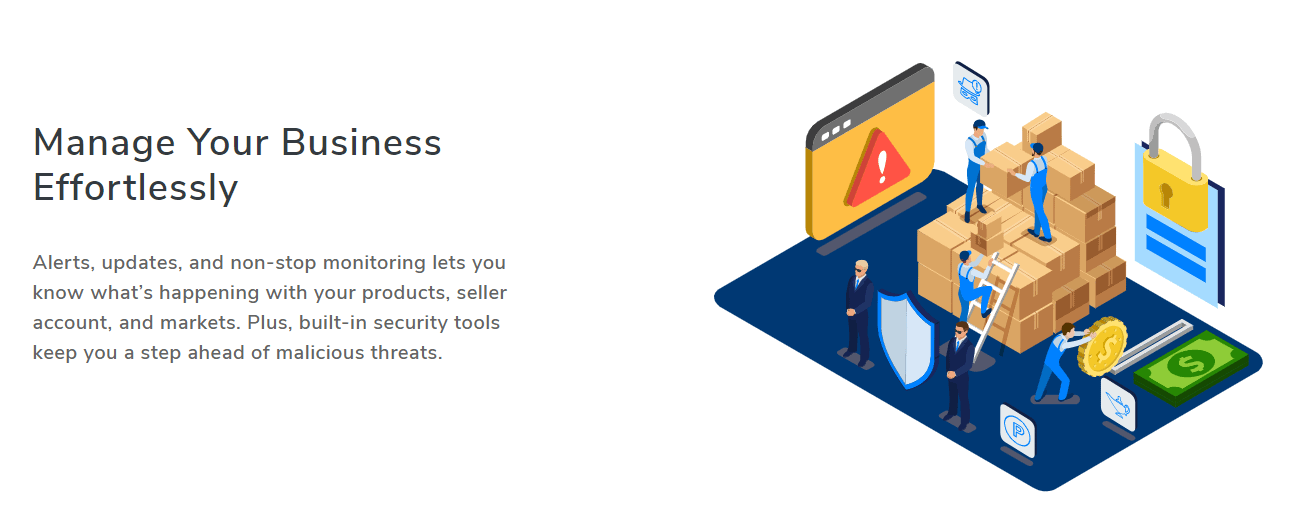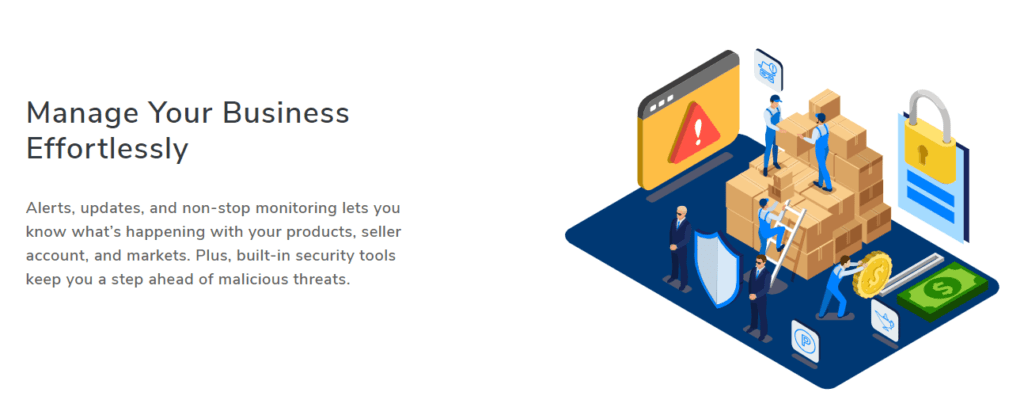 Once your products are launched, it can be easy to view that as endgame. The site is launched, and you're done, right? Wrong! Now come the ongoing operations and all those bits of admin which ordinarily would dominate your time – if it weren't for Helium 10.
These are the tools which protect your product pages and your brand image, and which manage various process for you to streamline both your experience and the customer experience.
Hijacker Alerts is a hijack monitoring program which searches for users looking to steal your product content and palm it off as their own, while Inventory Protector works out the profit and monetary impact of Amazon coupons and deals which can make a huge hit on your business if inventory and multi-buy sales aren't tracked carefully.
Refund Genie is another tool offered as part of Helium 10's operations arm, giving you a direct link to receiving assistance and support in light of Amazon losing or damaging your stock, and the Helium 10 Follow Up tool does what it says on the tin – following up with consumers after sales have been made with an automated email chain.

If you ask any successful business what the key to ongoing success and building their business is, they will likely point you in the direction of analytics. Analytics are the tools and processes which allow you to track and analyse the number of visits your page or site is getting, understand the conversion rate from browser to buyer, and gain a better understanding on the funnel and customer journey which your customers are experiencing. More than that, it also tracks the competition and shows you how you are doing in line with your competitors, both in terms of profit and inventory and demand. The four tools offered by Helium 10 as part of the Analytics tools are Keyword Tracker (a product ranking tracker which looks at how your keywords are performing in the industry), Market Tracker (which looks at how your products are performing against your direct market competition), Profits (a breakdown of your financial analytics), and Inventory Management (forecasting your future product demands using previous average sales).


And finally, to the marketing itself – getting your product pages out there and onto the search pages of your captive target audience. Helium 10 uses two tools to support Amazon seller's marketing, featuring the PPC ads platform which can be automated through a Helium 10 profile so that you don't have to worry about your ads, and Portals which builds landing pages. What these tools do is ensure that your target consumer can search using your keywords and come across your products either organically or through PPC, arriving on an informative landing page which is designed to convert them from browser to buyer.
Other beneficial tools and features:
Multi-user login is available for the Diamond and Elite package users
Sellers can create connected accounts which form a central hub
Elite package sellers can enjoy live expert training in Amazon selling
Elite package sellers can benefit from workshops and access to a private Facebook group of likeminded users who all share their own tips and experiences
Users can add extension tools which allow them to see real time data, opportunities, and rankings as they are using Amazon. These are referred to as Chrome Extensions and can help the seller understand exactly what is happening on the Amazon site in a live setting, allowing them to export various pieces of data associated with products and keywords across various niche categories.
A great online blog on the Helium 10 website which introduces Amazon sellers to different ideas and concepts which they may not have considered before. This is especially beneficial for new users, as it presents them with questions to ask of their own strategies, and encourages them to join social pages and support hubs with other users.
As far as Helium 10 goes, the extensive exploration of all the featured tools above should provide you with the assurance that Helium 10 is a software tool packed with benefits – and very few drawbacks. Yes, the top level packages can add up quickly and may seem like a huge expense on the outset, but when you consider everything you get as part of the package then it starts to seem a little more viable.
Of course, not every program is perfect and Amazon sellers will need to understand exactly what is included in each package before committing. For example, there are various tools listed above which are included in different packages but may be limited depending on which package you go for.
The other drawback of Helium 10 is that it hasn't yet mastered a feedback management tool which allows Amazon sellers to really understand and track their consumer feedback – something which in the future would be a great tool, particularly in light of reviews and testimonials becoming increasingly important for the modern consumer audience.
Founded in 2015 by an ecommerce entrepreneur, Jungle Scout is a program similar to Helium 10 in that it is designed to provide Amazon sellers with the tools and support needed to grow their Amazon platform into a successful business.
Founder Greg Mercer was inspired to set up Jungle Scout as a response to his own need for data and resources in launching and running an ecommerce business, harnessing the power of Amazon as the world's leading online selling platform and driving it forward for sellers on a global scale.
Jungle Scout is another program which delivers an all-in-one set of tools, though it does so on a slightly smaller scale than Helium 10 and with marginally less accuracy in terms of estimating sales on specific products.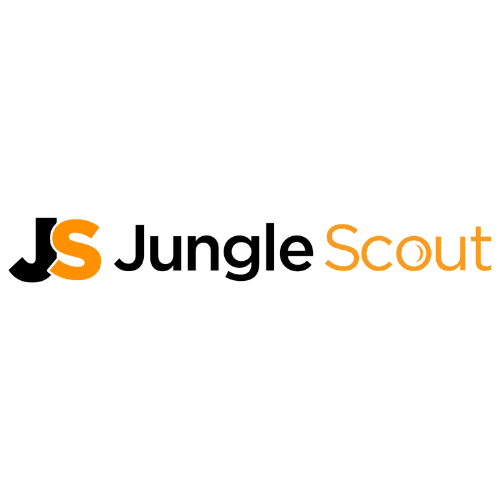 From the outset, one of the best things about Jungle Scout is its own website and the way that it has broken its packages and tools down into solutions for different users – depending on their status as an Amazon seller. From beginner sellers to new brands and agents, through to solutions for product launches and gaining more reviews, the way that Jungle Scout invite different levels of user to experience the website in the way that they need is both highly impressive and very useful.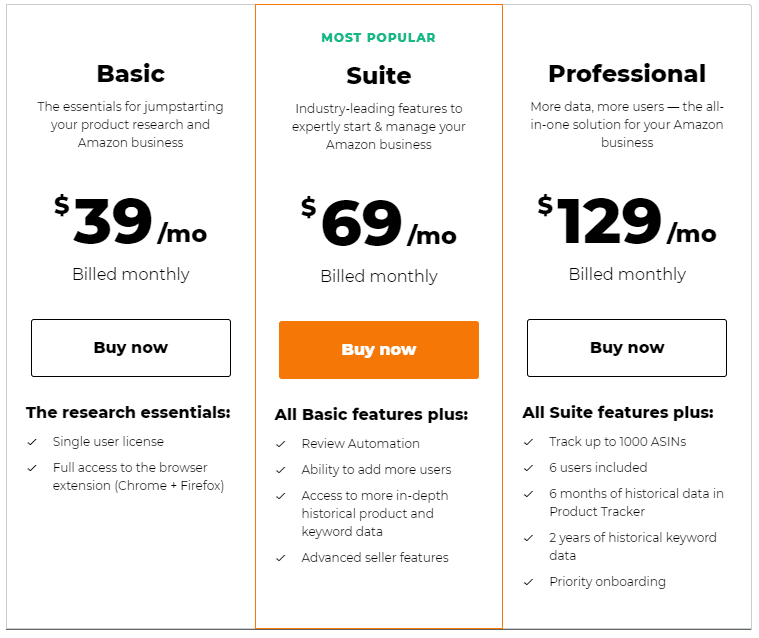 When compared with Helium 10, Jungle Scout is the clear winner when it comes to pricing. Offering three different packages from Basic up to Professional, Jungle Scout starts at $39 per month and rises to $69 per month for a standard package or $129 per month for the professional package. You may be reading this and feel shocked by the discrepancy between the top package here and that associated with Helium 10, however Jungle Scout has one glaringly obvious option missing: the free package. Instead, Jungle Scout offer a 14-day risk-free money back guarantee – a useful offering, though something that you will have to remember to action within the 14 days should you be unsatisfied or unwilling to continue with your Jungle Scout subscription.
Not a big issue, but something worth considering!
Users of Jungle Scout from its early days will remember that the Chrome extension used to be an add-on available at an extra fee – providing access to real time data and sales estimates while you are using Amazon, and allowing sellers to back up and validate their product ideas while they are browsing by allowing them backend access to information relating to different products. This is intrinsically linked with the Opportunity Scores which we will discuss in a little more detail shortly, and has recently been captured under the start up with no additional charge – making Jungle Scout's package even more cost effective in terms of what it includes.
In assessing Jungle Scout as one of the top Amazon seller tools, the best thing to do is to break the program down into its different tools. As with Helium 10, there are plenty of tick charts and lists available online which break the tools down into yes or no check boxes – whether they are included or not – though it pays to delve a little deeper and understand exactly what the focus and benefits are for Jungle Scout users. It is also important to note the different packages and what is included in each – with the basic package missing a lot of the elements listed below.


Whether you're a new Amazon user or a veteran seller with years of experience, it pays to have a good product research system in place which can help you ascertain how well certain products are performing and how they are performing across your competitor pages as well as your own. The Opportunity Score on Jungle Scout gives you access to a products profitability and the chance of it being sold using old data and an understanding of its niche market, while the Opportunity Finder takes keywords with high demand and low competition and channels them into information that you can use to find profitable opportunities. The Product Tracker works by comparing and organising different products over a set period of time, providing information which can be pulled together with the Product Database in order to keep all valuable product research together in one place. One of the most useful tools in this section of Jungle Scout is the Supplier Database which allows sellers to keep track of the different suppliers they can turn to for various products, filtering and comparing suppliers according to cost and reliability. And then we have the Keyword Scout which takes those crucial keyword suggestions and uses advanced filters to enhance your product listings with better and improved keyword ideas.


The next segment on the Jungle Scout tools breakdown, these are the tools which relate to the tracking and prediction of sales; with sellers using these four tools to understand how their products are performing against the rest of the market and against backdated predictions. When compared with Helium 10, the accuracy of Jungle Scout's predictor is 1% less – sitting at 95% where Helium 10 sits at 96%, though both offer extremely high predictive odds.
The top tools in this section include the AccuSales Estimate (an algorithm which allows the seller to see and project how well various products will sell on Amazon at different times), Historical product tracking data (viewing and assessing the performance of a product over time), Historical keyword data (looking at the performance of various keywords in relation to products and markets), and Marketplaces (access to global marketplaces which support third-party Amazon sellers).
One of the key things to note with these data tools is that all packages are capped at various limits. The tools which track and look at historical data in order to present accurate estimates of sales is capped by package, in relation to how far it looks back at the history of a product or keyword's performance. In the most basic package this sits at one month for product and keywords; the standard package looks back 3 months for products and 1 year for keywords; the professional package looks back 6 months for products and 2 years for keywords.
The important thing sellers should take from this is that the effectiveness of their data may be linked to the amount of historical data that is assessed – and this all comes down to how much you pay for your package.


These are the operational tools which are designed to enhance the user experience from both a seller and a customer perspective and can mean the difference between a reliable Amazon seller profile and a negative one. Sellers should note that of the nine tools listed within this final section, only two are available to those on the most basic Jungle Scout package – those are the Manual Review Requests tool (allowing sellers to use Seller Central to request bulk reviews for products quickly and easily), and Sales Analytics (which produces a database of analytics used to track sales and product performance.
The other tools listed as part of the advanced seller features include:
Review Automation (sending automated notifications to buyers which request reviews after a set period of time has passed since their purchase)
Rank Tracker (giving the seller access to the rank history of multiple keywords at any one time)
Listing Builder (using previous data and keyword analytics to build complete content listings which utilise the highest performing keywords and content strategies)
Inventory Manager (a basic understanding of how much stock you have and when you might need to order more in)
Alerts (notifications which can be controlled and edited by the seller, and which give them insight and information about price changes, hijacking and other changes)
Promotions (the ability to utilise and market various coupons and offers as part of product launches and promotional deals)
Supplier tracker (full access to supplier information which allows you to track and compare prices, lead times, and create and control purchase orders)
Besides the list of tools available through Jungle Scout, one of the great things about the Jungle Scout program is the way that its user interface is set up to support sellers at various stages of their Amazon business journey. Scrolling through the benefits and trying to decide on the right package is a big deal – particularly for a new Amazon seller who isn't yet sure of what kind of support they may need in growing their business and undergoing their Amazon journey. By offering these beginners a different solution experience to those who are advanced and simply looking for more targeted areas of support, Jungle Scout immediately separate out their different users and members, and ensure that each benefits from an experience that is of value to them.
Other beneficial tools and features
As you can tell, there are plenty of reasons why Jungle Scout is a great tool, but one of its greatest assets is the access it provides to various learning resources and tools for Amazon sellers. In fact, its website dedicates an entire page to various external resources which can be used by sellers to support their business; ranging from free blogs to extra training programs which users can sign up for and enjoy at their own leisure. This is all listed online under Jungle Scout's Academy page – inviting members to join in with educational videos and blogs which can help to enhance their business proposition.
Other benefits of Jungle Scout include the money back guarantee mentioned above, and the fact that any users on any package deal can cancel their subscription at anytime with no questions asked. As with Helium 10, Jungle Scout also allows multiple users to be added to any single account, however this comes at a cost – with only the professional package allowing more than one user, and anything above 6 users requiring further cost.
Jungle Scout: The Drawbacks
When compared with Helium 10, you can immediately see that while Jungle Scout ticks all the key boxes and scratches the surface on most of the key areas of focus for Amazon sellers, its tools rarely delve into as much detail as those offered by Helium 10.
As such, one of the arguments against using Jungle Scout can be its simplicity – that is, though it offers a look at a range of different areas, it doesn't always go into enough detail. For example, the Opportunity Score which presents you with one single score number in terms of a product's viability within its niche market, without really telling you where this number came from or in which areas the product was good or bad.
Helium 10 or Jungle Scout?
For us, there is really no competition between the two.
First and foremost, with more tools available across all of its different package deals, Helium 10 is the obvious choice for beginners to the world of Amazon selling. Its tools are more extensive in terms of their support for sellers, and the majority of Helium 10 features delve into much more detail than those offered by Jungle Scout.
Both programs now include the Chrome Extension download as part of the original package price which is a real highlight for both. However, despite Jungle Scout's cheaper packages, user friendly seller interface, and useful product database tools, the extensive list of tools and powerful SEO and keyword focus provided by Helium 10 means that our crowning PEO software provider is Helium 10.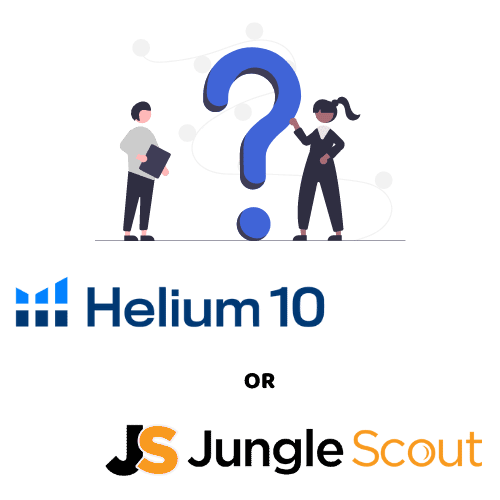 To finish on a pricing note (because we all know that price is everything!), not only does Helium 10 offer more tools with more extensive coverage and insight into different areas of product and keyword research, but it also includes a free version of the software. Add this to the fact that the cheaper Helium 10 packages include more of the tools than when compared with the cheapest tool offered by Jungle Scout, and that the Chrome extension is free, and you can ultimately deduce that there is more value in a Helium 10 subscription – whether you are new to Amazon, or you are a veteran seller!
Look, selling on Amazon FBA can be complicated, but it's also very rewarding. If you're willing to put in the time to learn the process, it will grant you Financial Freedom. These tools are awesome, but there are many other aspects you need to master in order to be successful, that's why I create the Amazon Business Mastery Course where you can learn how to build your Amazon FBA Business Step-by-Step.
So that's my guide on the Top 2 Amazon Software Available.
Now, I'd like to hear what you have to say:
Did you ever use Helium 10 or Jungle Scout?
What was your experience with them?
Which one will you give a try?
Let me know by leaving a comment below right now.
Get Exclusive e-Commerce Tips
Receive the same Tips I used to Grow a 7 Figure e-Commerce Business
*We respect your privacy and Do Not Spam.